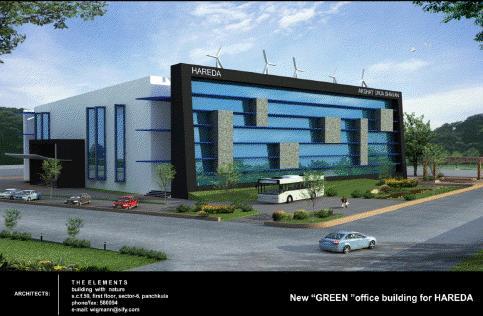 The Department of Renewable Energy/HAREDA, has constructed its office building "Akshay Urja Bhawan" on an institutional plot measuring one Acre, at sector 17 Panchkula. The building will have the covered area of about 55,000 sq.ft. and will be constructed at an approx. cost of about Rs.8.92 Crores.
This building will be one of its kind in the country in having Energy Autonomy by incorporating the latest and futuristic energy efficient concepts. It shall be the first building in the Government sector which is being constructed in Compliance with the Energy Conservation Building Codes (ECBC). Moreover this building shall also comply with the 5 star rating, which is the highest rating of GRIHA rating systems for Green buildings of Govt. of India.
This building is being constructed based on solar passive design techniques having Building Integrated Photovoltaic (BIPV) system of 42.50 KW capacity, Solar Chimney, evaporative cooling, cavity walls, Use of Fly ash based bricks water recycling and Energy Efficient Lighting etc.
The incorporation of these features will result in achieving an internal temperature of about 28 deg. Centigrade without Air Conditioning. The energy consumption in this buildings is estimated to be about 30 kWhr/m2/year in comparison to the consumption of about 200 kWhr/m2/year for the existing air conditioned buildings.
No municipal water supply is required after the first monsoon with the 6.5 lacs litre underground tank that has been optimized for rainwater harvesting and consumption pattern of the building.
Optimization of installed load shall be about 55 kW only. This will be the one of its own kind of building with 25% reduced lighting energy need and Annual Energy Consumption at 3.48 units per sq, ft. against 18.5 units per sq. ft. of a conventional building.